What is an SEO migration plan?
the SEO migration plan is a set of web page redirects (URLs) during a total or partial overhaul of a website. It is an SEO service in the technical field.
This SEO process allows you to list all the URLs of a site affected by migration or redesign. The purpose of this table is to determine on a case-by-case basis the redirects needed to new versions of URLs.
What is the SEO usefulness of a migration plan in a website redesign?
the redirection plan during a redesign is intended to establish an exhaustive listing of URLs going to benefit (or suffer depending on the choices) from structural modifications in order to establish a redirect table 301.
Those permanent redirects will, when uploading new content, re-root users and crawlers (Crawler) search engines seeking to access old URLs to new ones and their new online content.
Other cases may induce a redirection plan :
Massive displacement of content,
Redesign of the tree structure,
Reorganization / modification of URLs (directories, categories, compliance),
Abandonment of web pages, directories,
Domain change,
Manipulation of internal popularity …
The usefulness of the migration plan is, therefore:
of do not lose the user from SEO, but also from various other web acquisition channels (direct, SEA, social, referral …) by serving a 404 page,
of do not serve unreachable URLs responding in 404 search engine indexing robots,
of facilitating the updating of the engine index search via 301 and 410 redirects,
of maintaining stable SEO traffic during significant changes to a website,
of transfer theming, the anteriority, the popularity of an old page towards a new one,
of semantically re-cluster your new website.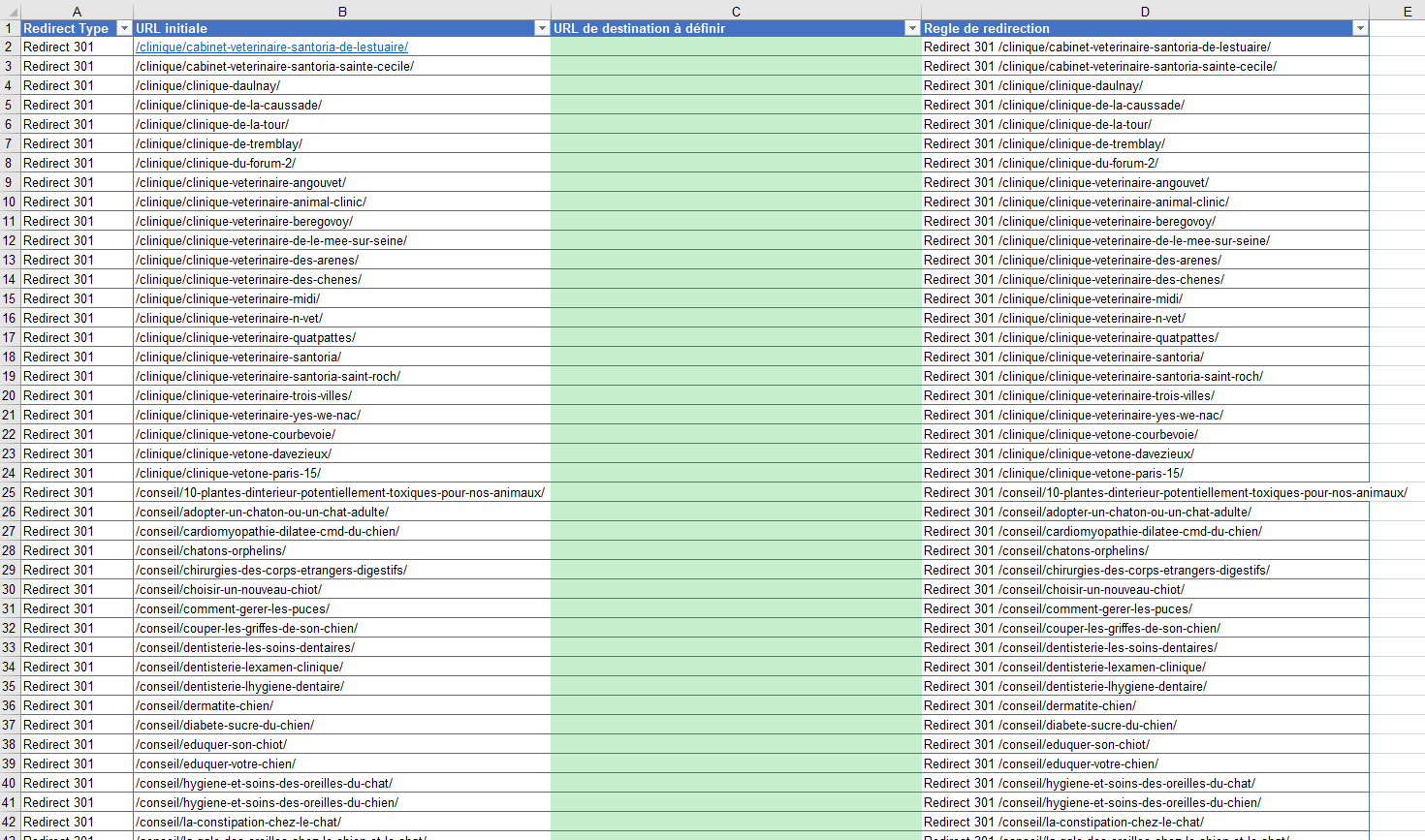 How to set up a migration plan?
Generating an exhaustive URL mapping
Establishing a migration plan (or redirection plan) in SEO begins with the generation of a list of URLs affected by the changes mentioned above.
This listing must be generated via:
a full crawl website and sitemap.xml,
Identification of pages already redirected in order to update the 301s if necessary,
Identification of URLs benefiting from significant external popularity (quality backlinks).
---
If you are busy with time and your goal is only to maintain traffic, you can also just focus on pages representing 90% of your traffic via an Analytics export. You abandon part of your pages, but keep your web traffic in the short and medium-term. Without going into detail, this solution (even if less recommended) remains quite effective in an emergency.
Indeed, if logic dictates that the best-performing pages are those the most crawled by search engines. The losses will therefore be minimal and the bulk of the theming, popularity, and performance will be picked up and redistributed to the new destination URLs.
Be careful all the same to target the pages which, even if they do not generate traffic, represent a strong semantic and theming cluster. In the medium term, their loss could negatively influence your positions.
---
Once this list of URLs has been established, you will have to work:
URL matching
This is the most tedious task (in some cases), in terms of setting up a redirection plan. The objective is to establish with finesse a correspondence of old pages with future URLs not having the same structure.
This operation is carried out taking into account:
The page theme: the goal is not to destabilize the search engines too much by going from a specific subject to a page that deviates too much from the theme. If the URL changes and the content is kept as is then the operation is simple.
The content density: a high-performance page with rich content must retain this characteristic. Do not go from a page of 1500 words to one of 300.
The directory structure: still in the same vein, the old pages of a specific directory must point to an equivalent directory in the new structure.
In case you want to do a good spring cleaning, and delete harmful, unnecessary, or lapsed, no URL is therefore foreseen in the new structure of the site. It will take where initiate a deindexing via 410.
The choice of redirect: 301 or 410
In a redirection plan (migration) for an SEO overhaul or site restructuring, the idea is to optimize your site for better organic performance.
It is then necessary to identify the performing pages and those of no interest. On a website of more than 5,000 pages, we can first identify the segments (URLs or directories) of the site that generate the most traffic and redirect them permanently to new versions technically and more semantically. optimized for natural referencing.
In this case, it is mandatory to use a redirection type 301 (permanent) in order to reassign all SEO skills (popularity, theming, performance) from the old pages to the new ones.
Warning! The 301 redirect also conveys negative SEO aspects of a web page, it is therefore sometimes necessary to drop the pages identified as harmful for a website.
The redirect 410 (gone), is part of a deindexing logic and of not taken into account for reference. It is also an effective means of crawl budget rationalization.
In a redesign with a view to optimizing natural referencing, the goal is also to optimize the engine crawl quality so that they only focus on the high-value-added pages of the site.
In this logic, the goal is to identify all low-value pages: spammy net linking, poor content, spider trap, non-crawled deep pages… And redirect them via a 410. Thus, the search engine will update its index faster (only by falling on the 404) and will no longer seek to crawl these pages to concentrate these analysis resources on the user pages for SEO of the site.
---
The most common mistakes to avoid when migrating a website:
Migrate without a redirection plan,
Redirect all the URLs of a site to the home page,
Migrate by deploying 302 redirects (temporary),
Do not respect a thematic correspondence when choosing new destination URLs
Do not integrate SEO optimization into your redesign project,
Do not skim URLs with low added value.
Speed ​​up the index update after a website redesign/migration:
In order to speed up the process of Google index update the objective is to force his hand a little:
Deploy the redirection plan on your server (and test it),
Force the crawl of your home via the Search Console,
Submit your old sitemap.xml in Search Console to force Google to identify your redirects
Wait 15 days,
Deploy your new sitemap.xml and submit it to Search Console.
The tools necessary for carrying out a migration plan:
a crawl allowing to do complete mapping and redirection tests: Screaming Frog,
Your sitemap.xml is complete in case of orphan URL not discovered on the crawl but important,
Majestic SEO to identify highly popular URLs,
Excel: popularity crawl processing, concatenation, quick replace,
To go fast: Fuzzy Lookup Excel for large sites (automatic matching on a URL similarity criterion),
a code editor such as Sublime Text.